Below are all of the live reviews that include me over the years. Click the plus button to read more.
Below are all of the CD reviews which include myself over the years. Click the plus button to read more.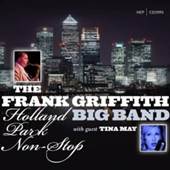 Oregon-born Frank Griffith, who has made his home in England since 1996 and become known there as a top-drawer musician and educator (he is director of performance in the School of Arts at Brunel University), has long had a desire to record as leader of a big band playing his compositions and arrangements, and here it is—Holland Park Non-Stop, a non-stop anthology of big-band singularity and swing at its straight-ahead best. Griffith wrote four of the eleven numbers and arranged them all, keeping his well-rehearsed ensemble on its collective toes with a series of well-drawn charts that demand their unbroken tenacity and awareness (for a graphic example, dig the high-powered "Ricochet").
Besides composing and arranging, Griffith solos on clarinet ("Baby Won't You Please Come Home," "Shine," "JCC," "Travelin' Light") and tenor sax ("Oh You Crazy Moon," "Body and Soul," "Ricochet," "These Foolish Things"). Guest vocalist Tina May is featured on "Crazy Moon," "Travelin' Light" and "That's All." She's sunny and decorous, sounding like an updated version of band singers from the '40s (Helen Forrest, Ivie Anderson, Helen O'Connell and so on), and Griffith's charts bring out the best she has to offer. Even so, it is the instrumental tracks that earn top honors, starting with a loping rendition of Horace Silver's jazz standard, "Strollin'" (ardent solos by trumpeter Freddy Gavita, alto Sammy Mayne and trombonist Adrian Fry, animated timekeeping by drummer Matt Home).
Griffith's low-register clarinet takes center stage on his Basie-like arrangement of "Baby Won't You Please Come Home," which precedes the first of his original compositions, the Latin-style charmer "Antonia," on which Gavita and alto Matt Wates exchange well-aimed salvos and pianist John Turville frames one of his several perceptive statements. Griffith's clarinet and Home's brushes brighten another venerable standard, "Shine," while Griffith's throaty tenor summons memories of Coleman Hawkins on "Body and Soul." "JCC" (Jazz Corner Comrade), Griffith's tribute to New York City's Birdland, is a medium blues housing well-cooked solos by Turville, the leader on clarinet, tenor Bob Sydor, trumpeter Ed Benstead and bassist Spencer Brown, "Holland Park" a jazz waltz whose leading dancers are Gavita (flugel), Mayne and Home who unlimbers his splendid chops on the fast-moving "Ricochet," which embodies blistering solos by Wates, Turville, Griffith (tenor) and trombonist Mattias Eskilsson.
As noted, Holland Park Non-Stop is for those who appreciate big bands that seldom stop swinging. Even though it took Griffith a while to grab the reins and quarterback his own big band, let's hope there's more where this came from.
" This compilation is a no nonsense album of loud brassy jazz,played with passion by the musicians.That said,I have never personally heard of Frank Griffith(he is an American jazz activist in the School of Arts at Brunel University) but the the band is absolutely professional and for fans of the genre it will be a pleasant experience of really well played muisc.There are three vocals all well performed by Tina May.The recording engineers have excelled on this CD and the recording is is superb.If you are a jazz fanatic this recording undoubtedly worth a spin."
Oregon-born saxophonist Frank Griffith hasn't just settled in the UK to give Brunel University students the benefit of his considerable jazz experience. He's also brought with him a conviction that the golden age of the big band doesn't need to be recreated. With arrangements that sing clearly and a mostly home-reared orchestra that swings crisply and surely, those big band days can simply be continued. That's certainly what's happening here as Griffith combines his admiration for Duke Ellington, Count Basie and the Thad Jones-Mel Lewis Orchestra with an approach that's both classic and fresh and a programme that follows the form of vintage big band radio broadcasts, complete with a guest singer, Tina May, whose three classy contributions leave this listener at least wanting more. Griffith's own compositions, including the bluesy JCC and the waltzing Holland Park, are similarly classy and played with relaxed exactness. But for the ultimate then-is-now experience, try Shine, a 1920s piece that sounds newly minted thanks to Griffith's masterly and at times mischievous clarinet playing.
Below are all of the CD reviews for Tina May. Click the plus button to read more.
Below are mentions of myself
Since 1980, Mr. Schuller — the son of the Pulitzer Prize-winning composer Gunther Schuller — has lived in what is known as the musician's building, which has eight units that rent for $1,000 to $2,500. He has had more than 100 roommates in those 30 years; now he and his wife, Nicole, share a dark two-bedroom filled with records and instruments that Mr. Schuller, 55, says he has been hoping to organize for years. He plays the acoustic bass; she plays the saxophone.
"The super was a great sax player named Frank Griffith. His agenda was, 'I don't want people who will complain about my music, so the best thing to do is get musicians.' Sometimes there'd be three practices going on. People used to come by just to listen; no one ever complained about the noise. One guy would be up there playing a funk-jazz thing, there'd be a big-band thing in the living room, someone else practicing out here and maybe I'd have a rehearsal. So sometimes it was really cacophony; it felt like the place was gonna explode!
Advertisement
Continue reading the main story
In those days, there were so many clubs on Fulton. Charlie Parker, Miles Davis, Dizzy Gillespie, Monk all played at all of them. Those places are all gone. Some of these guys became very famous, some disappeared, some died. Eventually guys got married or moved to other places. I'm pretty much the only one left."